I'm a fan of CLIO's liquid eyeliners, so I tried to buy them again when I went to Korea last December. It came to no one's surprise that I managed to buy the wrong one – I had intended to buy the pen liner again, but ended up getting the brush liner cos I was blur.
---
Product Description
Official Retail Price in Singapore: SGD 16.90 (ezbuy)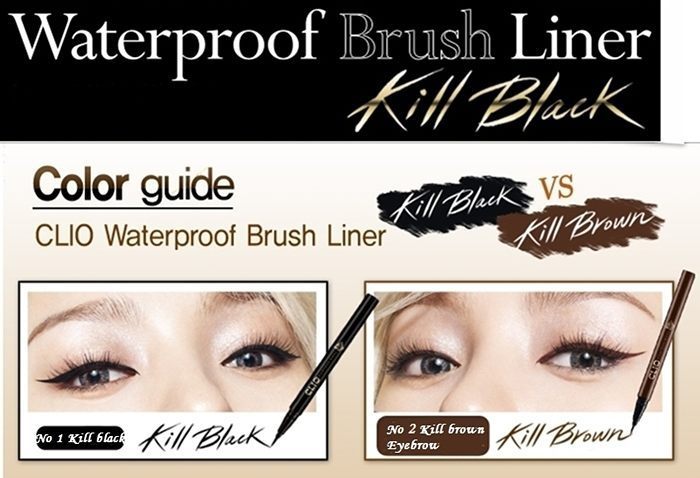 ---
Ingredient List
I couldn't seem to find this online for some reason, so I had to use a photo taken from the packaging. Again, you'll find that the main ingredient in this product here is water. The iron oxides are presumably to give the pigment its brown colour, which could also explain why the colour is much lighter than you might expect.
---
I only use brown eyeliner, period. I think no one will ever be able to convince me otherwise. I got this limited edition set – I'm hypothesizing that it's got to do with the repackaging/rebranding of the liner series. It came with a free furry mirror that you can bring on the go, and who doesn't like freebies, right?
Packaging: This is slightly thicker and shorter than the CLIO pen liner I have. Again, I'm not sure if this is a new packaging, but I find that it being thicker actually allows for even better grip, and in turn an ability to draw more comfortably.
Colour payoff & intensity: It's still a lighter brown that I would have liked, but I'm very pleased with this eyeliner's payoff. I was initially quite worried that it would be harder to use than the pen liner, and I'd end up drawing uneven lines all over my eyelids, but my worries were unfounded. I would even say that this brush liner's payoff is much better than the pen liner, and doesn't fade throughout the day. One stroke is sufficient for a good colour, so you don't have to keep drawing again and again on the same spot.
Staying power: The pen liner doesn't hold up too well when oil is in question, but the brush liner is totally in a league of its own. This has survived all kinds of undesirable conditions found in sunny Singapore, including thunderstorms, buckets of sweat rolling down my face, and too much oil from my pores. For even better staying power, I sometimes pat a small amount of Innisfree No-Sebum powder and I know that I'm all set to survive the day. Don't believe me? Check out this infographic:
---
Final Verdict
I'm sticking to CLIO for all my liquid eyeliners for as long as I can. I love this brush liner and I can definitely vouch for its claims of being waterproof and smudgeproof. If you're a beginner at eyeliner and want to try your hand at liquid eyeliners, this is the one for you.
---
Rating
Colour payoff: ✮✮✮✮✮
Ease of use: ✮✮✮✮✮
Staying power: ✮✮✮✮✮
Value for money: ✮✮✮✮