This review is waaay overdue – I bought my first Peripera Ink the Airy Velvet last year in Korea and liked it so much that I bought two more from the same series. You might have heard about how good this product is and its value for money. It sounds exaggerated, and I was initially quite doubtful about the hype, but now I have seen the light (HAHA), and I hope that my review does justice to this amazing product.
---
Product Description
This lip tint glides on smoothly, offering vivid color and a soft, velvety texture to your lips.

The enriched formula keeps your lips moist and glossy without feeling sticky.
Official Retail Price in Singapore: SGD 6.90 (Shopee)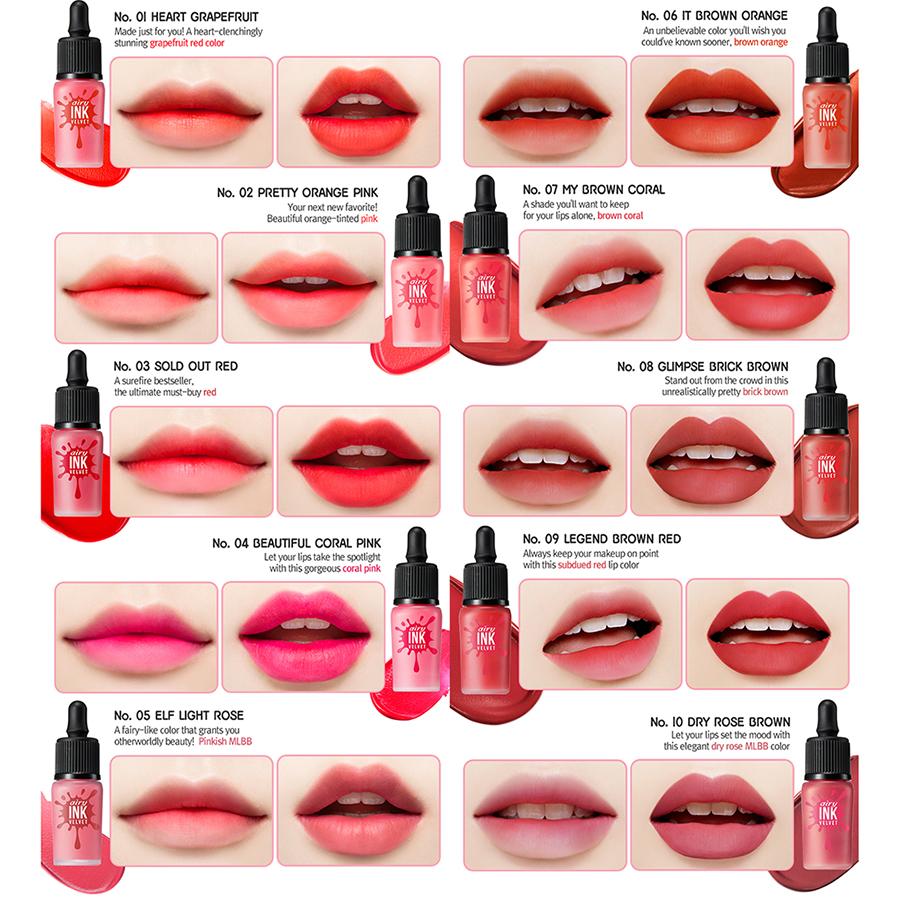 ---
Ingredient List
Dimethicone, Cyclopentasiloxane, Dimethicone Crosspolymer, Cyclohexasiloxane, Polyglyceryl-2 Triisostearate, 1,2-Hexanediol, Cyclotetrasiloxane, Phenoxyethanol, Fragrance, Tocopheryl Acetate, Green Tea Seed Oil, Cotton Seed Oil, Mango Seed Oil, Lithol Rubine BCA, Cetyl PEG/PPG-10/1 Dimethicone, Tetrachlorotetrabromofluorescein, Titanium Dioxide, Ferric Oxide, Phloxine B, Hydrated Ferric Oxide, Sunset Yellow FCF, Tartrazine, Black Oxide of Iron
These are the 'main ingredients' found in each product regardless of the colours. For the longest time, I suspected that the formula for Peripera's Ink the Airy Velvet (Or Airy Ink Velvet, whichever floats your boat) was exactly the same as moonshot's Cream Paint Lightfit. A quick check of moonshot's ingredients shows similarities, though I think that Peripera's one contains more seed oils, while moonshot's has more…wax? Which would explain the slight difference in texture between the two.
---
I intentionally picked 3 shades for different 'moods' and occasions – a bright coral, a brick red, and a MLBB shade.
Packaging: I find the packaging really adorable. It reminds me of a dropper, although it doesn't really function that way (real pity about this!). It's actually a pretty small tube, which would explain its really low price point, but I personally really like this because it's easy to bring around for touchups or for travel, and I don't have to fret about not being able to finish them before they expire.
Colour: I bought three shades – #2, #7, and #10. My personal favourite is #7, because these days I gravitate towards brick red shades that are great for daily use, yet very empowering (if you know what I mean). #2 is a tad too bright for me if I apply a full colour, but looks very good when used as a gradient lip. #10 is a bit of a pity because I thought it would look great, but it's more cool-toned than I thought, and cool tones generally don't work well with my skin. Oh well 😦
Colour payoff & intensity: This is arguably one of the most pigmented lip creams/tints I've gotten from a K-beauty brand. I love the pigment, love the colour intensity, love the payoff. There's nothing I can find fault with this because it's truly so good. I feel like I'm getting my money's worth when one smooth swipe is all I need to complete my lip look. It does make it a bit harder to do a gradient lip look with this, but I really appreciate the full, even colour application that Ink the Airy Velvet provides.
Staying power: Peripera is famous for its lip tints, so you can expect that all their lip products have some degree of staying power. This is one of the most lasting lip products I have used, and I am seriously impressed by how long it lasts. I could apply this for a normal work day, have lunch and eat snacks over 9 hours, and still have at least 80% of the colour left on my lips with no patchiness, no stickiness, and no dryness by the end of the day. How is this possible?? What sorcery has Peripera been working with these products?? Why aren't the other companies producing magical products like these as well??
---
Final Verdict
Some people have called this their holy grail, and I assure you that they are NOT exaggerating about how fantastic this is. In fact, it is also one of my holy grail lip products because it is just so good.
Firstly, the price point is already enticing enough. Less than $10 for a vivid, long-lasting lip cream – now who wouldn't want that? It also doesn't help that they have an impressive range of colours for any preference and any mood, so you have an excuse to buy more than one without breaking the bank.
I highly recommend shade #7 (My Brown Coral) for those who love a good brick red (one of the most popular K-beauty trends to come). You'll definitely love how sophisticated and elegant you can look with just a small tube of lip paint.
---
Rating
Colour payoff: ✮✮✮✮✮
Ease of use: ✮✮✮✮✮
Staying power: ✮✮✮✮✮
Value for money: ✮✮✮✮✮