I received this new product from Althea about one or two months ago. It was really timely, considering that I had just started applying sunscreen more frequently (yes, I know, I'm not exactly a role model).
---
Product Description
Shield your skin from the sun's rays and give it some petal protection with Althea's Petal Velvet Sunaway! Ultra lightweight, this invisible sunscreen is formulated with hyaluronic acid and Damask rose extracts, ensuring that your skin stays fresh and hydrated throughout the day without any streakiness or a white cast. It has an SPF of 50+ and PA++++, so your skin'll be kept protected all day. As part of the Petal Velvet line, it also contains micro-powder particles that give you a smooth, petal-like complexion.
Official Retail Price in Singapore: SGD 13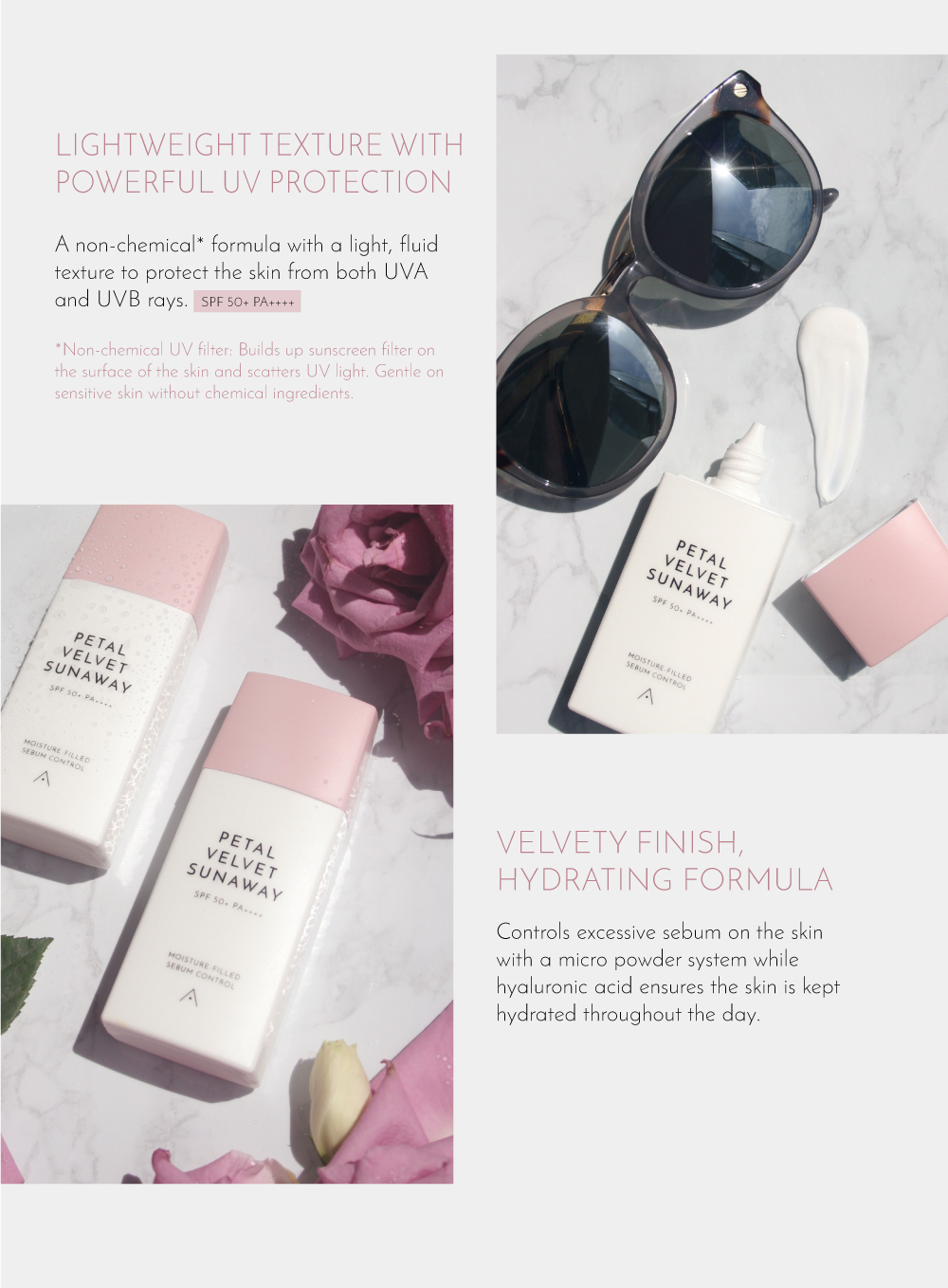 NOTICE: Do take note that hyaluronic acid is actually not included in the ingredients, this is a mistake on Althea's part!
---
Ingredient List
WATER, CYCLOPENTASILOXANE, ZINC OXIDE, DISILOXANE, PROPANEDIOL, TITANIUM DIOXIDE, DICAPRYLYL ETHER, METHYL METHACRYLATE CROSSPOLYMER, PELARGONIUM GRAVEOLENS FLOWER OIL, SALVIA OFFICINALIS (SAGE) OIL, POGOSTEMON CABLIN OIL, CITRUS AURANTIUM BERGAMIA (BERGAMOT) FRUIT OIL, ROSA DAMASCENA FLOWER EXTRACT, PEG-10 DIMETHICONE, STEARIC ACID, ALUMINUM HYDROXIDE, VINYL DIMETHICONE/METHICONE SILSESQUIOXANE CROSSPOLYMER, SODIUM CHLORIDE, TRIETHOXYCAPRYLYLSILANE, 1,2-HEXANEDIOL, SORBITAN CAPRYLATE, GLYCERYL CAPRYLATE, POLYGLYCERYL-6 POLYRICINOLEATE, ETHYLHEXYLGLYCERIN, BUTYLENE GLYCOL, ETHYL HEXANEDIOL, CAPRYLYL GLYCOL
Interesting ingredients here include the various types of oils and extracts, as promised in the product description. For those who have sensitive skin, take note that Cyclopentasiloxane and Butlyene Glycol are potential irritants!
---
Packaging: It looks quite standard, common across most types of sunscreen I've seen so far. I do like the colours though – pink is such an Althea colour, and definitely strengthens the concept of using Damask rose extracts.
Texture: Seeing that water is the top ingredient, it comes as little surprise that this is so watery. I think this may be even more watery than my Bioré one, even though this sunscreen from Althea doesn't really emphasize this part, other than the mention about it being ultra lightweight.
I am absolutely in favour of such textures, because it is well-absorbed by skin and is less likely to clog pores. I really dislike the feeling of having my skincare products settle on top of my skin – so gross!
Effectiveness: It's tough to check whether this product is really fending off the harmful sun rays for me, but I'll evaluate this based on its product claims:
Ensuring that your skin stays fresh and hydrated throughout the day: I didn't really feel so much of this freshness and hydration on my skin, but I'm not sure if it's because my skin is already very oily to begin with and putting on more oils just feels oilier to me.
Without any streakiness or a white cast: I totally agree with this. In the last photo above, you'll see that even though I've patted in the sunscreen and spread it out a little, you don't really see a white cast or oily streaks on my skin. It's great because some sunscreens tend to leave you looking multiple shades lighter than you actually are, which looks very weird. All I'm asking for in my sunscreen is sun protection, not whitening please.
Smooth, petal-like complexion: My skin hasn't been anywhere near smooth for some time because I keep having all these tiny bumps here and there (if I'm lucky). I don't think this product helps in smoothening skin, but I don't know if it's just because my skin has been looking so bad that no amount of this sunscreen can do anything for me. Maybe if your skin is better, you can see this smoothening effect better.
---
Final Verdict
I'm a huge advocate of using sunscreens, but I think I might give this a pass for personal reasons.
Firstly, I'm not a big fan of the smell. Granted, you can't find 'artificial' fragrances in the ingredient list, but the smell can still be very overwhelming. I think it's the smell of the rose extract, or perhaps some other oil, that is responsible for this. It's a very sharp smell that I don't really like, and some people may be uncomfortable with it as well.
Next, I got a minor breakout from using this. I'm suspecting it may be the irritants, or that my oily skin just doesn't enjoy being further overwhelmed by more oils. I don't think I've read other reviewers complaining about this, so it's most likely just me.
However, if you have more balanced and 'resistant' skin, and absolutely love herbal smells, you can consider giving this a shot. At SGD 13, I think it is fairly reasonable, making it a good entry product for those who are new to doing UV protection.
---
Rating
Ease of use: ✮✮✮✮
Effectiveness: ✮✮✮
Value for money: ✮✮✮