I don't know about you, but I seriously love Japanese blushes. For starters, the packaging is always so beautiful, and the colours well-suited for Asian skin tones. I won this as part of a contest (as mentioned here) so I got to try this out!
---
Product Description
With the double gradation effect of colors and pearls, you can create a glossy, beautiful look that blends perfectly with your skin.
Official Retail Price in Singapore: SGD 17.90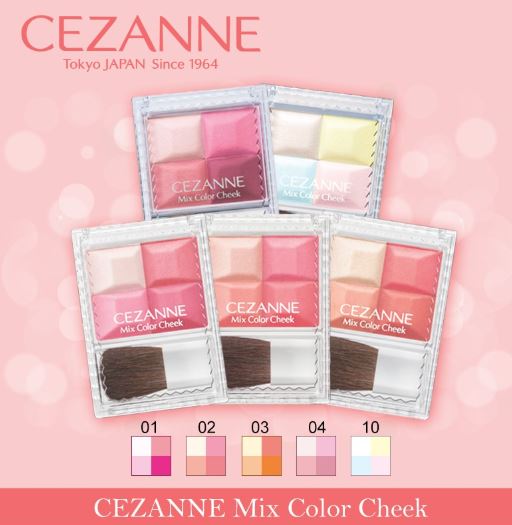 ---
Ingredient List
MICA, TRIETHYLHEXAHOIN, DIISOSTEARYL MALATE, DIMETHICONE, ZINC STEARATE, PHENOXYETHANOL, METHYLPARABEN, TOCOPHEROL, SODIUM HYALURONATE, BUTYLENE GLYCOL, WATER(AQUA), PRUNUS YEDOENSIS LEAF EXTRACT , ROSMARINUS OFFICINALIS (ROSEMARY) LEAF EXTRACT (ROSMARINUS OFFICINALIS EXTRACT) , (+/-) , TALC, TITANIUM DIOXIDE, TIN OXIDE, IRON OXIDES, RED 30, RED 7 , YELLOW 5
Some key points
Mica: creates a natural shimmery finish, since it can be milled to a fine powder. Because it is naturally produced it is a particularly well-loved ingredient among organic and natural beauty brands, and is safe to use on almost all skin types with little to no side effects (source)
Methylparaben: used as a preservative in women's cosmetics, may increase risk of breast cancer (source)
Rosemary leaf extract: protects skin cells from damage often caused by the sun and free radicals (source)
---
Packaging: Looks like its eyeshadow's packaging, but I ain't complaining. It looks very elegant and beautiful, even though it is just a drugstore brand. I guess the Japanese just do their packaging really well!
Colour: Personally, I like this colour combination the best out of all the palettes. There is a good mix of pink and coral colours, which is very good for people with slightly fairer skin and warm undertones. It looks very natural as well, especially with the pearlescent glow that comes with every shade.
Colour payoff & intensity: Just like its eyeshadow equivalent, the colour intensity in this blush is close to zero. It hardly shows up on my skin unless I dust a few more layers, although I do have to point out that the pearl powder already shimmers very nicely with just one or two layers. It's just the colour that doesn't show up well, unless you are super fair. That being said, it's not entirely a bad thing, because you get the appearance of naturally rosy cheeks more easily, if that's what you are going for.
Staying power: I wouldn't say the staying power is super good. Actually it's very hard to tell also, because I can't see much of the blush on my cheeks to begin with. You might have to touch up after a few hours if you want a more vibrant colour.
---
Final Verdict
Just like their Korean counterparts, I feel that Japanese blushes and eyeshadows often lack the colour intensity that their Western counterparts offer. The pro, of course, is that you can hardly go wrong with a more natural looking shade, but also limits the kind of looks you can achieve. This is especially so if you tend to have darker skin, because Japanese beauty products are even more limiting than the Korean ones when it comes to diversity.
If you have fairer skin (I'm a 21, and I already find that this doesn't show up well), then this is definitely something you would want to grab. If not, I think this is still nice to use for the glow that it gives you, like a more natural-looking highlighter that doesn't look excessive. At SGD17.90, I think it's not too expensive, but of course there are other brands that offer cheaper alternatives that could work better for your skin tone.
---
Rating
Colour payoff: ✮✮✮
Ease of use: ✮✮✮✮
Staying power: ✮✮✮
Value for money: ✮✮✮