This is probably all the rage on the Internet now, and I have to admit that this is another one of my impulse purchases. I read about it on Allure, found out that Etude House was selling this in Korea, and immediately placed an order for it on Shopee.
Everything happened really quickly, and I was still kind of in disbelief that I got this so fast. I've never been one to hop on trends and buy new product launches because I'm really not into that kind of thing, so you can imagine how much I really wanted to try this out!
---
Product Description
In the original milk chocolate and a white strawberry chocolate packaging each one includes 6 shades + a KitKat pouch (about $18).

Both eye shadow palettes feature six shades in packaging reminiscent of KitKat wrappers. The milk-chocolate version includes a matte beige, a rich matte tan, a medium brown with gold shimmer, a matte chocolate brown (of course), a shimmering gold, and a shimmering red. The strawberry-white-chocolate version, inspired by one of the many flavors exclusive to Asia, includes a matte cream, a shimmery peach, a shimmery pink, two rich browns — one matte and one shimmer — and a matte golden brown.


Allure
Official Retail Price in Singapore: SGD26.80 (Shopee)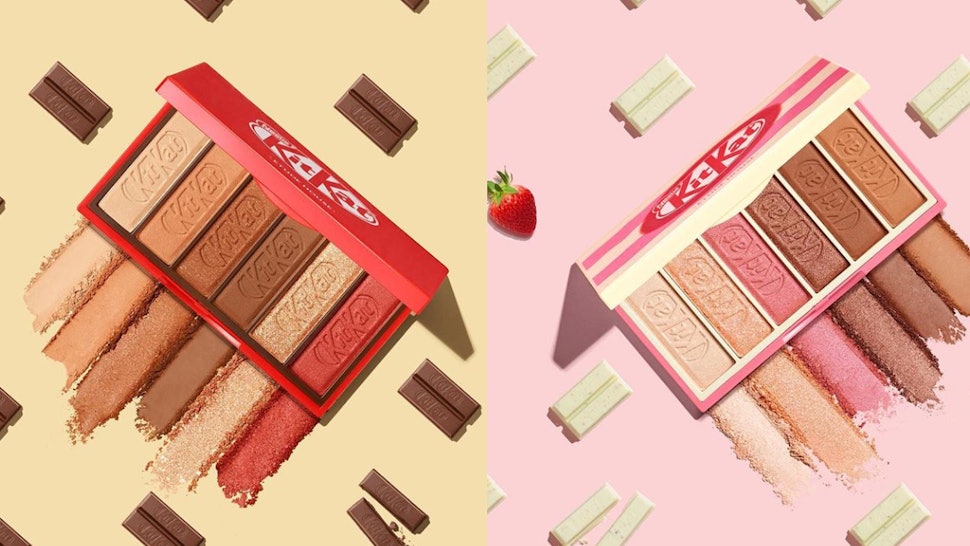 ---
Ingredient List
I don't think this has been published yet, will update once more details are available!
---
Packaging: The Kitkat packaging is seriously very worth collecting, but you know what makes this even better? The fact that it actually comes in a box that's has a Kitkat pouch AND real Kitkat chocolate!!
Texture: You can see from the swatches that the texture is a little chalky and powdery, which is actually pretty common with some of Etude House's Play Color palettes. That being said, you may find it a bit difficult to apply this evenly on your eyelids as well, especially with the darker shades.
Colour payoff & intensity: If it looks like there are only 6 shades in my swatch photo, the lightest shade is clearly almost invisible :') I had a pretty hard time trying to get a decent colour payoff for the lighter shades (the first 2), but found that the last 4 are actually pretty okay.
I may be slightly prejudiced, but I always had the idea that Etude House's eyeshadow palettes are really not the best in terms of colour payoff, so this one did surprise me (pleasantly) by quite a bit.
Colour: While I can't find the shade names online, they are briefly described as 'a matte beige, a rich matte tan, a medium brown with gold shimmer, a matte chocolate brown (of course), a shimmering gold, and a shimmering red'.
Matte beige would be suitable for a base colour, and the rest I would use more for accents. I quite like the shimmering gold shade – you can use it to layer your eyelids, or use it to tighten your waterline. But of course, my favourite shades still have to be the brown, because brown shades are really very easy to work with for all occasions.
On the other hand, I find the red a little intimidating to work with (it's really very red), but if you are a fan of bright & bold colours, you definitely have to check this one out!
Staying power: Nothing amazing, but nothing to be criticized also. Its staying power is pretty average. My tip is to use an eyeshadow primer if you really want this to last for a whole day, because you'll most likely have a faded, muted eyeshadow look by the end of a long day.
---
Final Verdict
Did I buy this for the novelty? Yes.
Do I love the palette? Yes.
Do I regret buying this? ABSOLUTELY NOT!
(For those of you who are curious, yes, this palette does smell like chocolate.)
---
Rating
Colour payoff: ✮✮✮✮
Ease of use: ✮✮✮✮
Staying power: ✮✮✮
Value for money: ✮✮✮✮✮