This is one product that I've used for years, I think since my early teens when I first started seeing pimples on my face. It's also a staple product that many people I know use, and there's good reason why we have stuck to this same oil blotting paper throughout our lives.
---
Product Description
Clean&Clear® (Scented Oil) control film instantly soaks up excess oil & removes shine from your face, without smudging makeup or leaving behind powder. (They have an invigorating citrus fragrance that refreshes.)

These soft silky sheets can be used around the nose & other parts of the face; leaving the face refreshed, oil-free & shine-free.
Official Retail Price in Singapore: SGD 5.65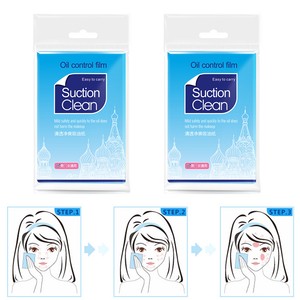 ---
Ingredient List
Polypropylene, Iron Oxides, (Fragrance)
This is the shortest ingredient list that I've ever written on this blog, but frankly there is nothing much to oil blotting paper except the paper, lol. The scented oil version naturally comes with added fragrance, but nothing too much for sensitive skin to bear.
---
Packaging: I love how compact and thin these sheets are, because they fit so nicely into any pouch and any pocket that I can bring them anywhere. I always have one packet with me either in my wallet or my makeup pouch as I tend to blot every few hours, especially after walking in the sweltering Singapore heat.
Texture: It feels very smooth and silky, much better than thin, flimsy tissue paper which I know some of us tend to use, because not all of us have oil blotting papers. It definitely won't hurt even if you try to aggressively rub the oil off your face (I don't do this, actually I'm not sure if anyone does, but who am I to judge).
Effectiveness: A picture speaks a thousand words, so I thought the best way to show that this is effective is through a photo of the oil-stained blotting paper!
Yep, there we go.
If you've read a few of my other posts, you'd know that I constantly lament about my face being an oil well, and here is proof. I could blot my whole face every few hours and get this amount of oil blotted out. In fact, this is not the most oil that I've blotted, and you'd be thankful not to see that piece of paper.
Personally, I don't think the effectiveness is different with or without the scented oil. Don't worry about that 'oil' word either, there's no way Clean & Clear would be adding extra oil to blotting paper meant to take excess oil away.
---
Final Verdict
This is really a fuss-free product, but dare I say a holy grail product for people with oily skin. I love a good glow, but I'm not keen on looking like my face is oily enough to fry hashbrowns and eggs on it. It is also good to remove excess oil to avoid clogging your pores in the long term.
Retailing at an affordable price and promising instant results, there's nothing not to love about this blotting paper. In fact, I've never thought of changing this because it's so good, and I probably never will change.
---
Rating
Ease of use: ✮✮✮✮✮
Effectiveness: ✮✮✮✮✮
Value for money: ✮✮✮✮